Brown Bag Series
Self-perceived life satisfaction: Evidence from a longitudinal study
Presentation 1
Abstract: The perceptions of citizens about society and their own lives in self-reported life satisfaction are vital for a democratic society. There is an increasing debate in economics about self-perceived happiness, quality, and satisfaction in life; this literature is limited in developing countries, especially in context of Pakistan. This paper is a longitudinal study of the relationship between self-perceived life satisfaction and self-perceived income, health, and governance. The study also aims to attempt to include twitter analytics and few variables from secondary data sources.
JEL Code: I310, I380, Y80
Key words: Well-being, Inequality, Quality of life, Social indicators
Presented by: Dr. Asma Hyder
Impact of development schemes on the lives of people of district Ghanche, Gilgit-Baltistan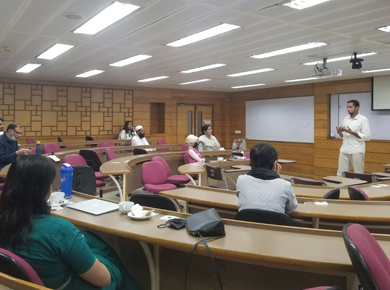 Presentation 2
Summary: Ghanche is one of the least developed districts of Gilgit-Baltistan having extreme poverty. The primary reason of poverty and lack of availability of basic social services such as health, sanitation and education is the absence of state. Since past few years, many NGOs and donor organisations have focused the remote areas of Ghanche district and initiated several projects and schemes to provide or improve livelihoods and social services to the local people. The aim of this project is to assess the impact of those initiatives on the lives and livelihoods of the local people of district Ghanche.
Presented by: Sajjad Ahmad and Irene Martinez
On Analyzing Unstructured Text - Using Twitter as a Case Study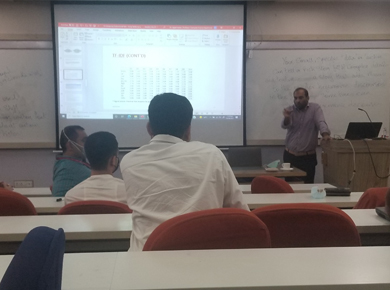 Presentation 3
The session would introduce the audience to software tools and mathematical foundations to analyze free text available in the form of newspaper articles, tweets on Twitter, comments on Facebook and on other social media platforms. After a general discussion on handling raw text data, a case study from Twitter would be presented to better understand the potential of Text Analytics.
Presented by. Dr Sajjad Haider
Country level Assessment of Food Loss and Waste in Pakistan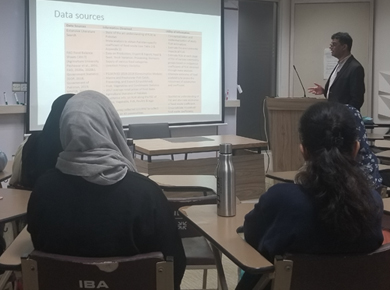 Presentation 4
Amid looming water stress and rapid population growth, food loss and waste (FLW) are emerging concerns for Pakistan but without macrolevel understanding of the issue. Through Mass Flow Approach, we delved deeper into FLW issue and produced the first ever country level estimates of FLW based on best available secondary statistics and literature reviews. Results suggest that some 18 megatons (Mt.) or nearly 15% of all food produced in Pakistan is lost and wasted along the Food Supply Chain (FSC). Of this, the 'losses' accounted for 13.6 Mt or 11.3%, and the 'wastes' accounted for 4.32 Mt or 4.7% of the food produced in the country. Three-fourth of the food that leaks out of the FSC is loss - 14% occurring during harvest, 21% in post-harvest and handling, 18% during processing and 23% in the wholesale market. The remaining one-fourth is food waste - 18% occurring at retail market and 7% in household. The economic cost of FLW amounts to PKR 2.17 trillion or USD 20.72 billion or 7 % of the country's Gross Domestic Product in 2017. The loss estimates are equal to 35 trillion calories or 13.8 % of the total calories produced in Pakistan, besides having huge land and water footprints. Based on the review of global best practices of managing FLW to curb this hidden driver of hunger and alleviate unnecessary pressure from our food production systems, we recommend policies promoting circular economic model of food production and consumption.
Presented by Junaid Alam Memon
Keyword: Food Loss, Food Waste, Food Value Chain, Responsible Production and Consumption